With one of the twins...which one I'm not sure, but who's to know that??? :)
Being a mother is one of the highest callings the Lord has given me. To raise these precious people for Him & to guide them to live for the Lord is a huge responsibility & definitely not something to take lightly. To point them in the right direction & pray that they will make the choice to follow Him every day of their lives is such an important role. A decade of motherhood is definitely something to celebrate and when our precious Zai celebrated his 10th birthday earlier this year I also celebrated this milestone! In looking back over the past 10 years it's been interesting to see how I've changed & how my mothering has changed. Always my aim was to seek the Lord, but I would say that God has certainly used motherhood as a refining tool. (I'm sure if you're a mother, you know exactly what I mean :) To celebrate I thought I'd note down one thing I've learnt each year of mothering:
In my first year of motherhood.....
I learnt how to love completely & unconditionally. From the first glimpse of our little boy I was in love & still am!!
The awkward 'new Mum' bathing style ~ back then I would bath him every morning ~ it was just like having a live dolly :)
In my second year of motherhood....
I learnt that love does indeed multiply as we welcomed our second baby! I was so concerned that I could never love another baby as much as I loved our first, but as soon as she was placed in my arms I knew that I loved her equally!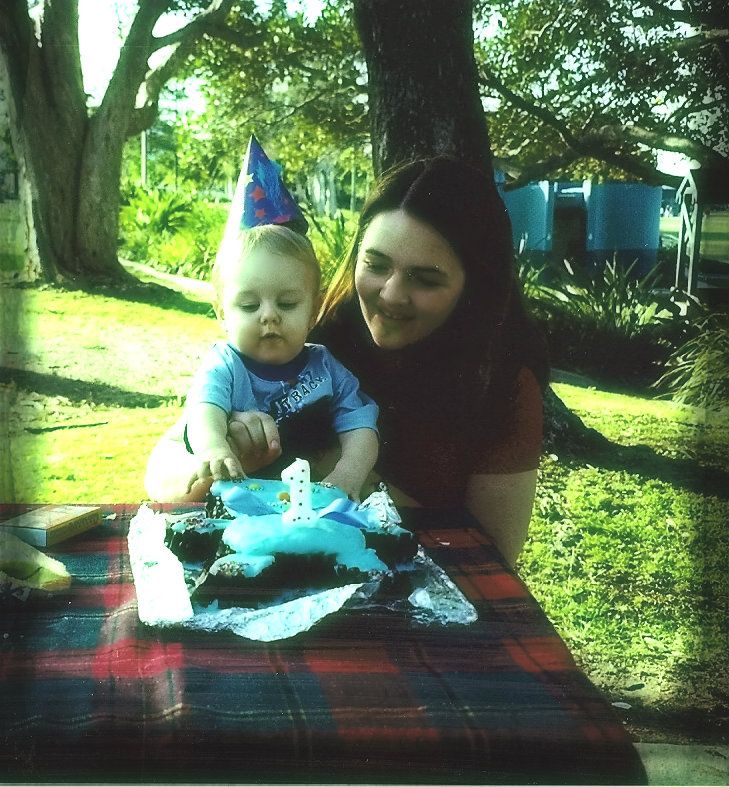 Zai's first birthday party ~ yes, we had 50 people there ~ no, we didn't have a party for any of the others :) ~ yes, I had bad morning sickness!
In my third year of motherhood.....
I learnt to slow down & enjoy my children as time passes so very quickly. This was the year that I spent completely focusing on our precious babies as we'd moved away from family for the year. It was a very special year!
He is so plane crazy ~ takes after his father :)
In my fourth year of motherhood.....
I learnt that life is the Lord's as I surrended my
twin babies
lives into the hands of their Creator. God chose to save them & I learnt that having your hands full is a wonderful feeling with four babies 3 & under! I have such wonderful memories of this time~ I'm wondering if that's because I had twice the amount of oxytocin running around my body :)
Precious times :)
In my fifth year of motherhood.....
I realised my role was so much more than the basics ~ I had to train these precious children and for that I needed a vision, so I prayed for one.
In my sixth year of motherhood....
We moved from the city to
Sunnyside
so that I could make motherhood my career. We also let our first darling go off to school. Those days were so difficult for me letting him go & seeing his personality change for worse as he drew into himself. I have such sad memories of this difficult year so far away from all that we knew & loved.
Is it bad to say I'm so glad that kitchen is gone ~ I mean I am thankful to have a kitchen, but I'm really, really thankful that it is no longer so ugly :)
In my seventh year of motherhood.....
I added a new element to my role of mother by
beginning
the task of home educating our precious children. It was such a great fit for our family ( & still is), but sure kept/ keeps me busy :) I relished this role & still thrive in it as I love watching how each child learns ( & of course not one are alike ~ God surely has a sense of humour).
Our crazy family :)
In my eighth year of motherhood....
I learnt how precious new life is & what an amazing gift it is & that it should
never
be taken for granted.
Picnicing by the dam ~ this was ten seconds before Bessy decided to wreck join our picnic :)
In my ninth year of motherhood....
I learnt how quickly the time passes. To think that our first precious baby was already half way to manhood is incomprehensible. To think that I've already had half my time training him is scary ~ have I done alright? What have I missed? What is most important to teach in the next half of his childhood?
I was trying to date this and then I realised that we only got the lounges that year ~ thankful for new lounges!
In my tenth year of motherhood.....
I learnt to prioritise my life ~ to say no to the good things & yes to the best. I learnt
I am not a superwoman
& I just can't do everything, but I can do all things (that the Lord would have me do) through Him who gives me strength ( Phil 4:13) .
To be a mother is one of the greatest privileges I have been given ~ I thank the Lord daily for our 4 precious blessings!
What is something you've learnt?
linking up: