Around the homeschooling community I'd heard whispers about a popular maths program written by maths teacher & homeschooling mother Maria Miller called Math Mammoth. I was so excited when we were given the opportunity to review one of her products & so I chose to try the Light Blue Series for Grade One to use with our twins.

* Work text Grade 1A & Answer key
* Work test Grade 1B & Answer key
* Chapter review sheets & Answer keys
* Practice worksheets (including worksheet maker)
* Tests on all chapters as well as end of year tests ( Tests also come in an editable format should you wish to utilise this option).
* Money chapter 8 for different countries (original contains USA) & answer keys. This contained separate chapters for Australian currency, British currency, Canadian currency, European currency & South African currency.
* Bonus softpack.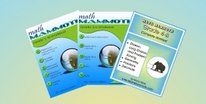 The
Light Blue Series
texts are available for grades one through to six and come as a complete curriculum which is fully inclusive containing both the teaching instruction & the student work questions. This enables simplicity within the teaching process and structure for the maths lessons.
Mammoth Math
emphasises on conceptual learning ( the 'why' not just the 'how'). This is apparent throughout the whole text with mental maths being written into the program. The lessons are simply written, easy to follow, understand & administer. The books are bright, colourful & engaging. They contain a variety of different styles of maths questions to both cement the concept & keep the student interested. To properly place your student, a diagnostic test is available at their website.
At the beginning of each chapter is an introduction followed by a list of 'helpful resources on the internet' that can be used as a supplement to the 'bookwork' if your child requires additional work or some fun games to test their newly acquired skills. This is followed by the work pages which is broken into sections and finally a review of work completed is at the end of the chapter. Once the whole chapter is sufficiently understood & completed, the chapter test is administered. This gives the teacher a good idea of how thoroughly each concept has been grasped by that particular student.
- Addition concept and facts within 0-10
-Subtraction within 0-10
-Connection between addition and subtraction
-Graphs
-Two-digit numbers and place value within 0-100
- Addition and subtraction facts within 0-10
-Clock and calendar
-Shapes and measuring
-Adding and subtracting within 0-100
-Counting coins
We used
Math Mammoth
Light Blue Series -Grade One
as our main maths curriculum for both Eli & Jud this term. I was so very happy that it required such little effort on my part as it seems my time is very limited at this point of the year. Both boys found it very understandable & easy to work through whilst challenging enough to make them think about the answers they were trying to achieve. I was pleasantly surprised at the variety of questions contained within the sections and the ease which the boys understood each part. Very quickly they were working ahead whilst requiring only minimal teaching from me. I also appreciated that they were able to work at their own pace & were not held back or pushed forward before they were ready (as is often the case with 'teacher taught' programs with two students so very close in levels ).
Math Mammoth
makes teaching multiple students of various levels & grades easy!
AUSTRALIAN STUDENTS:
I was pleasantly surprised to see that
Math Mammoth
tries to be as user friendly as possible for families all over the world. It covers Australia currency, metric measurement & even has a small section on mass which caters for both kgs or lbs. When compared with a national curriculum text I couldn't identify any areas that would need to be supplemented for my boys. I am confident that using this program will ensure a great mathematics grounding for any Australian student.
The
Math Mammoth Light Blue Series - Grade One
all inclusive package as I received is available as a download for $38.00 or on CD for $43.00. It is also available for purchase as separate worktexts & in a complete Light Blue Series Packaged together with the other grades
HERE
.
As a mathematics lover it is important to me to ensure that my children fully grasp their mathematics topics whilst still cultivating a love for this subject in them. This program helps to ensure this is done. I am confident that using
Math Mammoth
will aid in laying the foundational elements required for future success in their mathematics studies!