I've always been fascinated with how the brain functions. Whilst at university we briefly studied the brain, but it was more the anatomy & structure. We never went into depth with how it all functions. 6 years ago my Dad had a Grade 5 Sub-arachnoid Brain Haemorrhage & my fascination continued. We were able to watch as Dad's brain ( over the course of a few years) healed itself. Dad read numerous books on the brain function & it's healing abilities & has shared some of the information with us. Recently I received the DVD Understanding Child Brain Development by Matthew & Carol Newell of
The Family Hope Cente
r and have been further amazed with this wonderful organ & it's vital function in our body.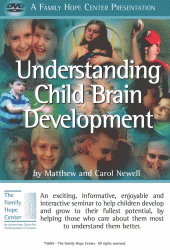 Initially I thought I would use Understanding Child Brain Development as an informative DVD so I could support many of my friends who have children who are 'labelled' with developmental delays. Instead I found that this DVD was not just for children who are diagnosed, but for every parent, including me! I found myself excited that I can assist my children in optimal growth & development in such simple & tangible ways. I also found myself understanding my children more especially as I thought back over their earlier development and the struggles they have today.
Understanding Child Brain Development is a 2 hr DVD of a conference introduced by Andrew Pudewa of the Institute for Excellence in Writing and presented by Matthew Newell, director of
The Family Hope Center
& his wife Carol. It introduces
The Family Hope Center
which is an international center for the development of children with special needs and developmental delays. The presentation takes you through a brief overview of the anatomy of the brain, the functions provided by these parts & specifically how a babies' development will effect their future social, emotional, relational, physical & mental growth. It provides parents with some sound practical advice on how best to care for their babies to ensure optimal growth in their brain to give them the greatest quality of life. It also provides parents with some proven techniques to assist your child of any age in growing in any areas of need you may have noticed.
The team at
The Family Hope Center
believe that a child should not be labelled, but rather we should look at a child's abilities. If a child is less able to do something than they provide parents with proven ways to assist this child in strengthening the part of the brain that controls that particular function. They understand that the damaged brain can heal if given the correct stimulation & they intend to assist parents in providing that stimuli. They point out that since no child is fully able, every child can grow & increase their quality of life by using their techniques. The key to diagnosing a child's abilities & areas of growth are
The Family Hope Center'
s unique Integrative and Developmental Progression Charts. These are used to locate the individual child's particular needs & then a parent or practitioner can work out what simple exercises will assist the child in helping their child grow & develop that area of brain function.
The Family Hope Center
have had enormous success with this program throughout 17 countries with many children having a higher quality of life because of the love of their families who have used these simple exercises to assist their child's brain development.
They also provided me with a bonus DVD 'Stories of Hope' which shares the stories of 6 families with children who were diagnosed with ADD, ADHD, Cerebral Palsy, Down Syndrome & Autism. This documents how the Family Hope Center has helped these precious children & their families.
I viewed Understanding Child Brain Development by
The Family Hope Center
one evening & quickly found that I needed pen & paper to take notes. It is full of high quality information that I couldn't help but be excited at how I could assist my children in increasing their abilities. Matthew Newell speaks in a fluent, conversational manner to present a clear, well thought-out presentation on a topic he is extremely specialised in. I found the basic exercises fascinating as I had never thought out how important each part of the babies development was for their later life, nor had I considered that you could reintroduce those phases to assist your older child further develop that part of their brain.
They emphasised the importance of a high quality diet free of processed foods, spending time daily in the sunshine & fresh air, drinking lots of clean water & limiting time with EMF's ( emitted by microwaves, gameboys, computer games, video games, TV & mobile phones etc.) for all children. This just makes sense to me as a mother & I intend to be more focused on providing more of this lifestyle for our family.
I was particularly amazed as Matthew Newell showed pictures of ice crystals of water taken from various parts of the earth or exposed to various things such as television. What we viewed was overwhelming evidence of the effects of different technology, environmental factors & lifestyles that change the structure of the water molecule. This may seem unrelated to brain development, but the brain is made up of a large proportion of water & it is vital that we understand what we are doing to our brains when we make our lifestyle choices.
I do feel that this short video only brushes the surface of what is being offered & I would love to take a longer course to have my numerous questions answered & to delve a little deeper into brain function & healing ( I wonder if they are going to come to Australia??).
This is a well presented course looking at a fascinating part of the body & it's development. I highly recommend it for any parent, but especially if your child has developmental delays.
Understanding Child Brain Development by The Family Hope Center is available through IEW for $19.00 (US $) or by calling

610-397-1737