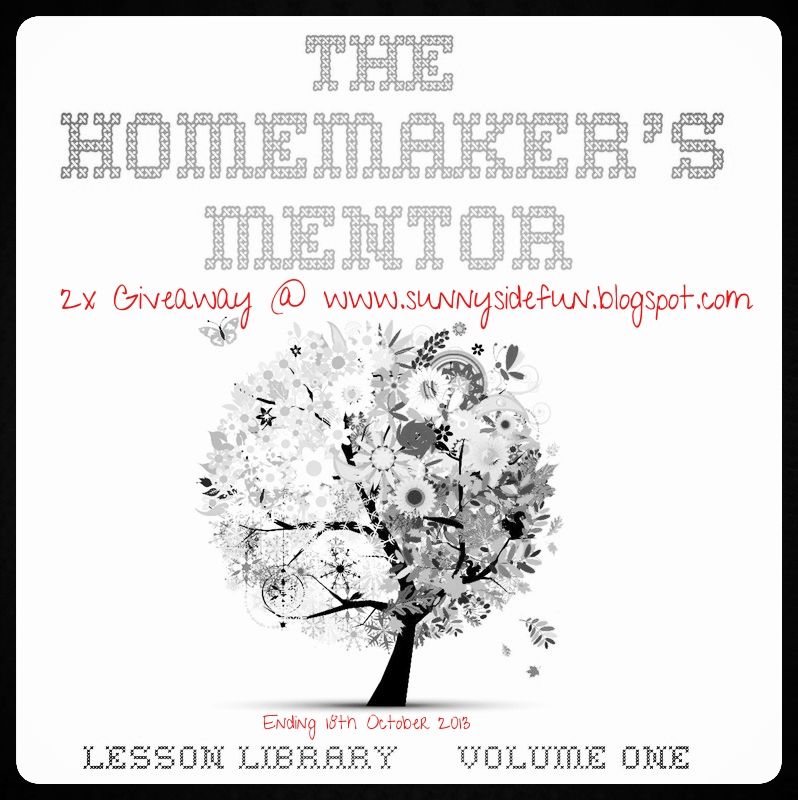 Homemaking is one of the joys of my life. To be the creator of a happy, welcoming home is one of my goals. Yet truthfully, there are times when I find myself floundering in the overwhelming lists of jobs & the lack of skills necessary to maintain this home to the standard I would enjoy it to be. As a homemaker, I earnestly seek encouragement & advice on how to reach my goals without taking time away from my precious family.
I was blessed to be included in the launch team for
The Homemaker's Mentor.
This is a CD-Rom containing a collection of over 110 pdf lessons by Mrs Martha Greene and Mrs Rebekah Wilson. These two experienced homemakers have joined together to provide numerous lessons, recipe sheets & tutorials for the education & encouragement of other ladies who are blessed to also hold this position. I have found the gentle & sweet manner of these practical & wise ladies has inspired me to make the most of my homemaking & to go that extra step to make our home a special place for my precious family & the visitors we love to welcome here.
The myriad of topics taught by these ladies means that every reader will learn new skills. I have numerous areas to improve in & am thoroughly enjoying the lessons. I take delight in using the content to assist me in making our home a more beautiful, organised place to live. There is still so much that I have to learn & I am sure this is a subject I will be a student of for life! I intend to use & reuse this resource throughout the years as the content is truly ageless.
~ Tutorials on how to clean various areas of your house including the bathroom, master bedroom & kitchen (these are very detailed & not only encourage you to clean, but to make these rooms beautiful & welcoming places for your family)
~Delicious & healthy recipes ( & some not so healthy ;) that will quickly become family favourites;
~ Lessons on sewing aprons, quilts & more (as an apron lover, I can't wait to get out my machine & make a matching 'Mommy & Me apron set for Ellie & myself)!
~ Lessons on herbal remedies (such a wealth of information is included as well as step-by-step recipes for different natural medicinals).
~ Craft products for the household (including a scrubbie bath puff, potpouri, an olive oil lamp & so many more)
~ Lessons on Organisation ( & easy printables that assist you in putting them into practice)
~ Advice on how to make our homes the peaceful, joy-filled blessings we desire
~ The sweetest stories that will inspire you to not just take pride in your position, but also take those extra steps to make your house truly become a home!
~ Hospitality
~Unit Studies for children (ages 6 - 10) on various spices
~ And SO MUCH MORE!!!
(
HERE
is a full list of The Homemaker's Mentor contents )
Homemaking is a topic near & dear to my heart. From the moment I was married & left the home of my childhood, I earnestly sought to make my home a place my family would thrive in & love to come home to. I wanted our home to be a place that welcomes people of all walks of life. I desire that those who enter find an oasis of peace, security, love & comfort beneath our roof. May our home to be a place of ministry to all who enter in. Within these lessons I have been introduced to ladies with these same priorities.
I chose to put the lessons onto my ipad & from there was able to read & utilise them easily. The children & I had so much fun making the Frosted Mocha Cookies to share at our Sunday School Picnic recently. I have also used 'A Vision for Order' lesson to provide some much needed framework to our hectic days.
Over the next week I hope ( Lord willing) to share with you some of the practical ways I have put these into practice ( including the most delicious recipe pictured above ~ with permission)!


The Homemaker's Mentor is available HERE
for $47, but until 18th October they are offering a $10 discount as part of the launch celebrations!! Free download is available for sample lessons at the link.
The Erskine Family have very generously allowed me the opportunity to Giveaway Two copies of
The Homemaker's Mentor
to two lovely readers. I just know this is going to bless you so much!
Please enter using the form below.
Note: US winners will receive a CD-rom, International (including Australian) readers will receive this as a download.
As part of the celebrations a MEGA-Giveaway is being held as well! The products included in this picture are part of the Grand Prize!
Please visit the Erskine Family
HERE
to enter this MEGA- Giveaway!
I feel so blessed to be able to be part of the launch team of this amazing resource! Dear friends, please don't look at homemaking as a 'duty of drudge', but instead be inspired to consider it a 'mission of love'!
Blessings