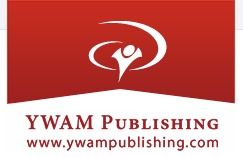 Jim Elliot: One Great Purpose
is part of the Christian Heroes, Then & Now series of biographies of great Christians who have worked dilligently for the Lord throughout their lives. It provides children with a true hero to imitate. Jim Elliot lived just 27 years on earth, but in that short lifetime he was a steadfast worker for the Lord. At just 25 years of age he made his way to Ecuador, passionate about working for the Lord amongst the Indians who had never heard about the Lord. Less than 4 years later Jim Elliot stood alongside fellow missionaries Nate Saint, Pete Fleming, Ed McCully & Roger Youderian as they were martyred for the Lord on the jungle beach. Jim Elliot's life may have been cut short, but his legacy lives on & His work for the Lord has reached further than even he could possibly imagine.
Jim Elliot: One Great Purpose
is Jim Elliot's story. It is simply written & comes as a chapter book to be easily read by a proficient reader or as a read aloud. It highlights different aspects of Jim's lifetime that influenced his passion for missions. It records various challenges he had before & during his missionary life. Throughout the reading it was clear that Jim Elliot was a man who was focused on the Lord's work! This book clearly tells the story of this ordinary man doing an extraordinary work for the Lord.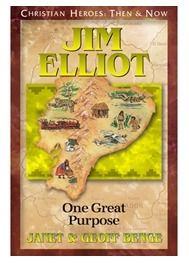 Jim Elliot: Unit Study Curriculum Guide
is designed to be used alongside the biography. It gives the student a wider understanding of not just Jim Elliot himself, but the geography & history of the Ecuador area & also current events of that time. Throughout the activities it also provides research opportunities for the student to compare changes since that time & to learn more about this unique part of the world.
The study guide has 8 sections:
1. Key Bible Verses
2. Display Corner
3. Chapter Questions
4. Student Explorations
5. Community Links
6. Social Studies
7. Related themes to explore
8. Culminating Events.
Jim Elliot: Unit Study Curriculum Guide
is well written to give parents an easy resource to use with their children which requires very little preparation work. It is able to be used for multiple grade levels with activities provided that can be completed in a group or as an individual. The large variety of activities within the study guide provides the ability to choose activities at the student's unique skill level. This ensures that neither the older or younger students are lost. (The activities are more suited for mid to late primary & high school students, but can be adapted to younger if completing in a group setting). Numerous opportunities are provided throughout the study guide activities to ensure multiple key learning areas (subjects) are covered.
We received
Jim Elliot: One Great Purpose
&
Jim Elliot: Unit Study Curriculum Guide
in pdf format. I loaded the book onto our ipad for ease of reading & printed out the Unit Study in it's entirety. Zai (5th grade) read Jim Elliot: One Great Purpose & completed chapter questions within the
Jim Elliot:Unit Study Curriculum Guide
. He is a proficient reader with an extensive vocabulary so he found it easy to read & understand. We found the questions within the study guide to be relevant to the corresponding chapter content. They made him think a little further about the story content and challenged him to think about deeper issues in life.
Australian Students:
Jim Elliot: One Great Purpose
&
Jim Elliot: Unit Study Curriculum Guide
are excellent resources for your homeschool. They provide many activities that cover numerous Key Learning Areas such as Creative writing, Drama, Reading & Comprehension, Essay Writing, History, Geography & even some Art activities. Various literature including biographies are studied in early high school & this is a very user friendly option for the homeschooling mother as it provides so many corresponding activities in the study guide. We have chosen to put this aside so our children can each use it in seventh grade. I will then go through the study guide & choose activities that are applicable for that student's skill level and the required learning outcomes.
Please visit fellow members of the Review Crew for further reviews of these & other
YWAM Publishing
products: