Some days long & involved blog posts linger within the realms of my mind. Generally as I sit in the car or work around the farm ~ when the computer is out of reach & time is too precious to waste sitting around typing up an assortment of thoughts into posts. I must admit I am counting down until the summer holidays when time will be a little kinder to my poorly stretched schedule & the end of year 'everything' is done. In the meantime please indulge me by pretending this holds a lengthy post of great importance rather than a few random memories deposited here for posterity.
This picture is nothing more than a teaser. We harvested our garlic!!! We were abundantly blessed & if it all stores well we will have more than ample to supply our needs over this coming year (with a little for seed as well). Zai has made a harvesting video to compliment his
planting video
& we will share it in a post in the near future!
We also planted our summer garden. These kale plants were obviously already established, but the small seedlings that went into the ground were quickly surrounded by thick layers of mulch so when I took a picture of the finished garden they were indistinguishable and the picture just looked like a pile of hay!
I did take this photo during the planting (obviously as my skirt is filthy). You must forgive me, but the name of the beans was asking for a photo like this. These have since come up & been nibbled on by escapee pet sheep that are going to taste very nice to eat ( actually we don't eat our pets as they were bottle fed with formula, we prefer to eat the ones which had their mother's natural milk so these ones will be eaten by someone else ~ well except the one being kept for milking which is another of Zai's ideas). Thankfully the beans have survived their pruning and the recent rain has given them an added boost to grow!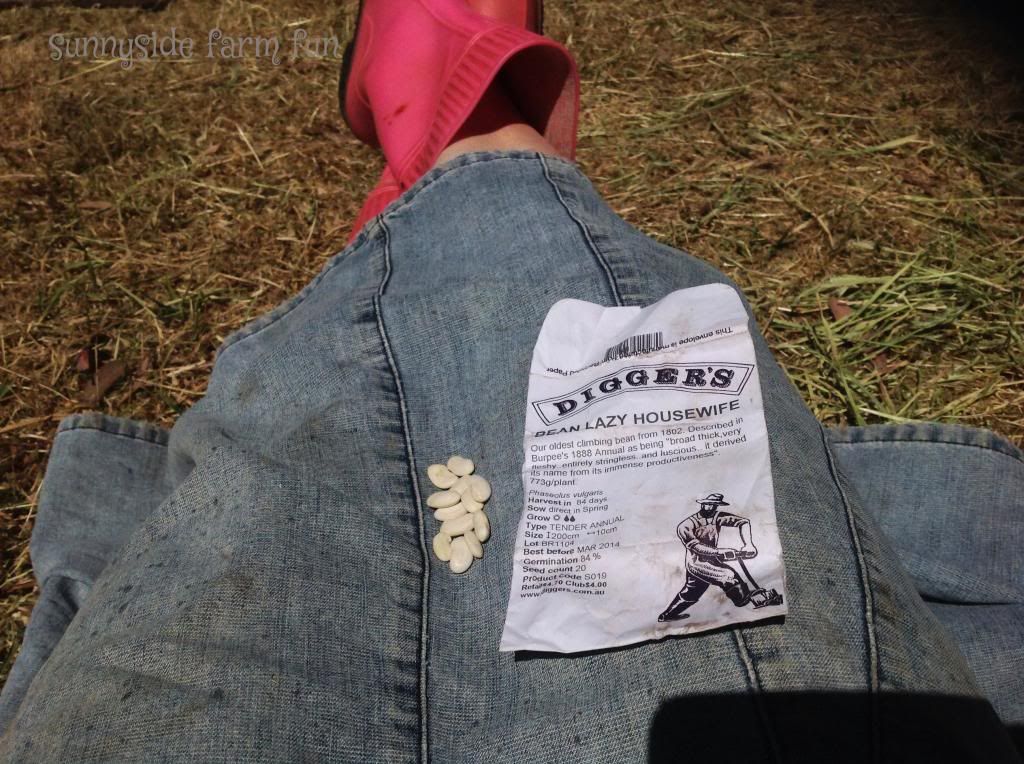 Over the past couple of weeks we have had more visitors occupying our cozy visitor's cabin here at Sunnyside. It was wonderful to spend time with my sister & her new husband. We had such a lovely time getting to know our new brother-in-law & uncle. One thing he loves is aeroplanes which suits our family perfectly as we have a few plain plane crazy members. We were able to get a special guided tour of Dave's work ( which I may have had with every set of visitors, but anyway...). I must admit this was a very cool addition to Dave's work hanger! No, they don't usually work on Hornets!!!
We have finally perfected the art of bacon making! After two very failed attempts ( OK, Zai & Dave did eat the second one, but I deemed it 'inedible') we have found a technique that produces the tastiest bacon imaginable. We have since used it 3 times very successfully ( we cut our sides into smaller pieces & froze them as this is the first time we've tried making bacon & we didn't want to wreck the whole side all at once). If you
follow Sunnyside Farm Fun on facebook
you would already have seen this picture, but I couldn't resist reposting it here! Trust me ~ this smells divine frying up in the morning (or any other time of day)!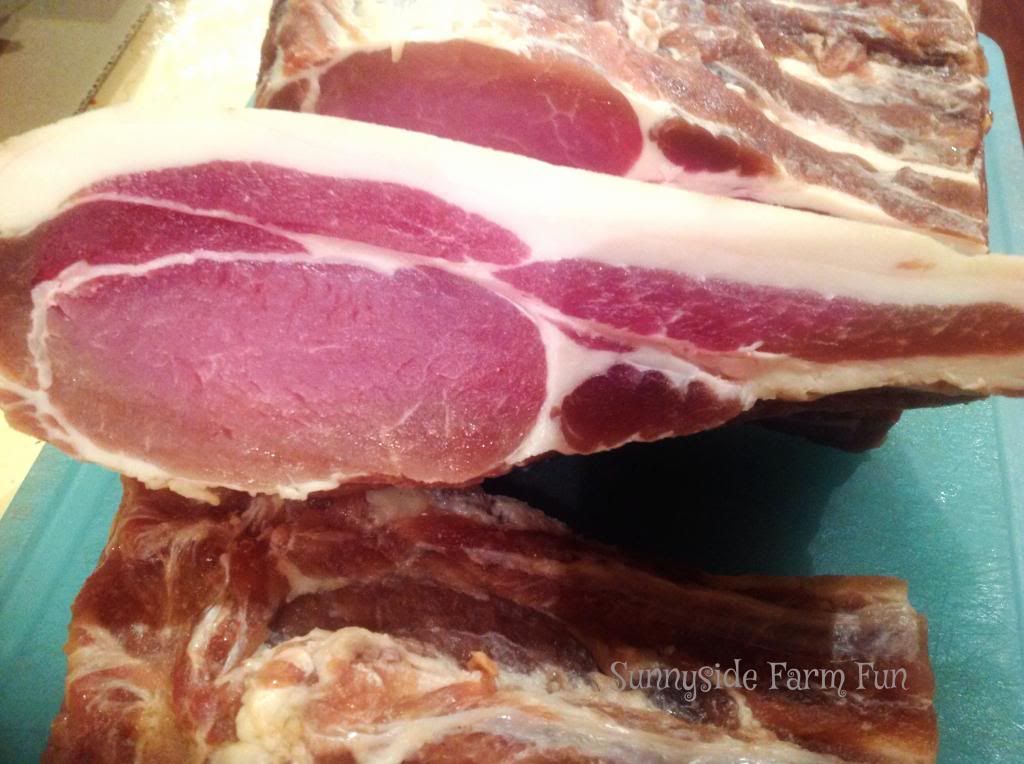 NOTE: this was raw before we boiled it. It is nitrate free so no actual pink colours after it is cooked!
This photo is put in just because he's cute! We've had the strangest assortment of weather here as if the world can't make up it's mind if it's winter or summer ( or somewhere in between). From frosts to boiling, it seems impossible to predict. This kitty found a sunny patch one cold morning & the children begged me to photograph him!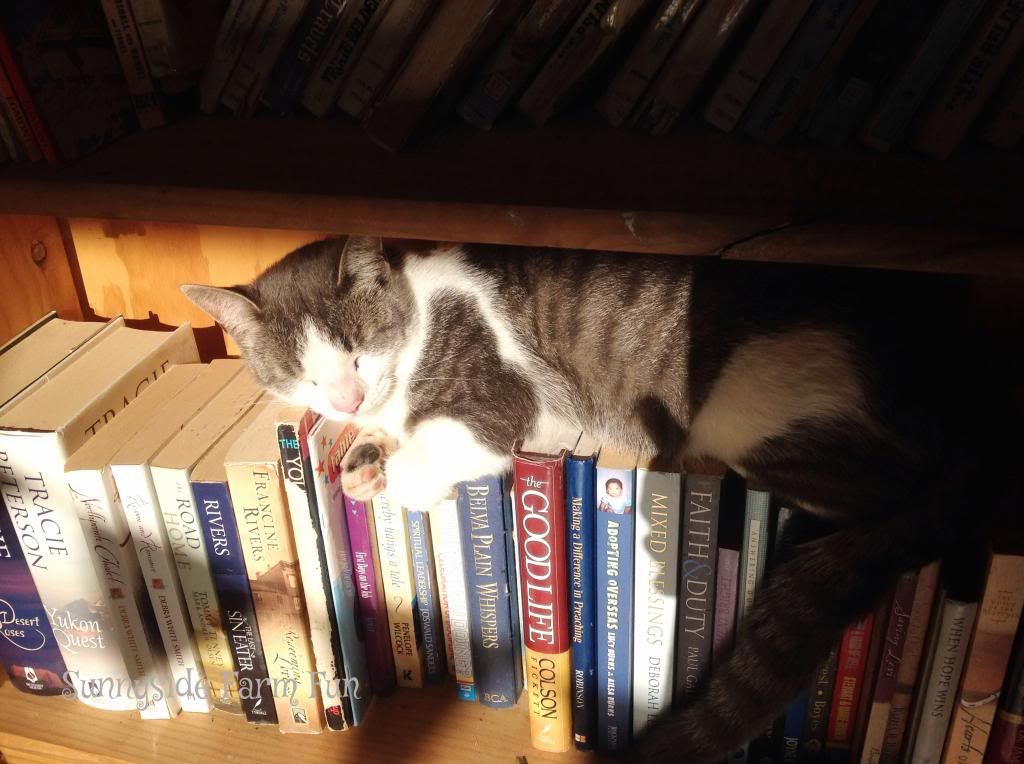 This was an exceptional day of milking where Chocco decided to finally let down & Bessy also did well. We are enjoying the fresh milk, but these cows know how to hold it in for sure. I guess the 10 or so litres here are a good start!
This is a photo from a recent endeavour to the big city. This was the most bizarre trip as it shouldn't have happened. Curious?? Well let's just say that my husband is obviously not the best at organising our calendar. We now have to endeavour back to the big city on the actual dates. We had a wonderful time though & took a swag of photos. This was on the way home again & we brought the most delicious strawberries here. ( Thankfully, because it was when we arrived home that we found the lambs camping in our house yard & my strawberry plants completely destroyed.)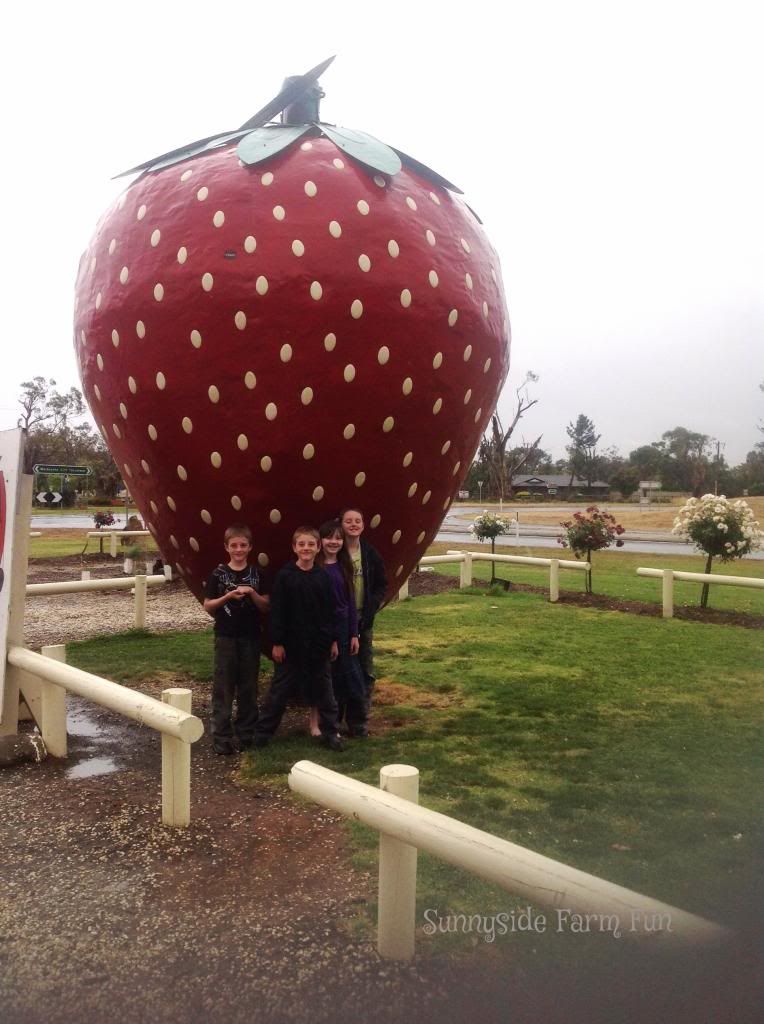 I have one more review to post from this review-filled season on the blog. After that I will endeavour to finally catch up on the posts I have waiting in draft! Thank you for your patience with my erratic, rambly posts!
Have a wonderful day friends
Blessings