I can scarcely believe how quickly this year is drawing to a close. It seems just yesterday that the calendar was changed on the fridge & now I have the new one waiting to replace that. Today I thought it would be fun to join up with the "Most Post" bloghop hosted at
Amongst Lovely Things
& look back over my blog year in 2013. This year has seen some enormous changes here at Sunnyside Farm Fun & I have loved every minute of it, but I also have felt it as lost some of the intimacy that it used to hold & I hope in the coming months to recapture this as I get back to just journaling our story & sharing my thoughts. So without further ado ( plus I am tired & should be heading to bed after an evening of erecting electric fencing to contain our rascally piglets) here are my 'Most Posts':
1. Post with the Most Clicks:

It was so very closely followed by my
Granny's Pickled Beetroot Recipe
that it certainly needs an honourable mention ( especially as I love my Granny so much & her recipe is delicious) :)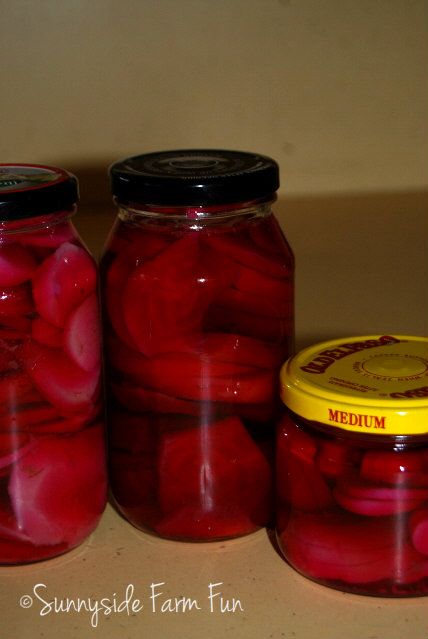 2. Post with the most comments:
I'm bowing out of this one as I have Intense Debate installed for comments at the moment & I can't find anywhere with a list of how many comments there are on each particular post. Other than manually going through & counting each one, which I'm too tired to do right now, I can't see how I could work this out. I just want to add that I know there are some difficulties commenting on the site with this installed. I am hoping to do a complete makeover sometime during the summer holidays (which have just commenced for us YAY!!!) & fix this. Thank you to everyone who has commented. I love getting comments & appreciate the time you take to let me know your thoughts :)
3. Post with the Best Pictures:
This was a very sad year for pictures as my beloved Nikon D40x DSLR camera began the year with a broken lens that I could just awkwardly hold in place to use. Then in April the actual camera decided to die. I sent it in to the Nikon repairer, but it was going to cost me over $500 to have it fixed. With the cost of a new ( & improved) camera being only a few hundred dollars more than this we decided not to get it repaired. I however had to put the purchase on hold as more pressing farm expenses needed to be paid. I have missed my camera more than I can say & can't wait to get my hands on my brand new Nikon (that I have yet to order, but that's another story ~ still trying to decide between 2 models) sometime in the new year! In the meantime all my photos were taken with the Ipad which just isn't the same at all to a girl who practically lived with her camera in her hand!
My choice is surprisingly some of these very Ipad pictures, but it is the content that I love!
Sunnyside in Spring
is just beautiful & I am so glad I shared these pictures as looking back over them now when it is so very hot & dry & everything has turned to a mottled golden brown reminds me that this season of little water & crunchy grass will not last forever. Before I know it we will be welcoming in Autumn in all it's colourful beauty with hopefully a whole lot of rain (which we are in desperate need of)!
4.Post that was the hardest to write.
As someone who is surprisingly very private, any post where I share my true feelings are difficult to write & even more difficult to press the Post button on rather than the delete button (which I have done a few times). This year the one that I cried more tears over & bared my heart in would have to be where I shared a little of my difficult journey over the past few years.
Encouragement for Homeschool Mothers ~ Depression
Should you have read the original draft you would understand why I found this so difficult to write. I deleted more than I probably should have, but it still is the one I laboured over for so very long.
5. Post that was my personal favourite:
I have two posts that I just can't decide between. Since this is my blog, I'm going to choose them both :)
My first choice is
Homeschooling Little Boys~ Delighfully
. This one was fun to write because the words flowed so easily from my brain to the screen & I loved sharing what I have found useful in the hopes that someone else may find the content helpful & encouraging.
My other choice is because it takes me back to wonderful mornings with Bessy in the milkshed . For the last few months we have been milking both Bessy & Chocco in the evenings as the new (to us) milking machine needs both Dave & I to use it & we need daylight (Dave starts work early). I miss those mornings of silent musings & entertaining thoughts with only my cow & chickens for company. I shared some of my tired-induced thoughts in this very 'tongue-in-cheek' post:
How to Dance Like a Farmer & other Farmyard Secrets
!
I hope you enjoy looking back over the past year!
Have a wonderful day friends
Blessings