It is so easy to make homeschooling complicated. I am the very worst of offenders at this. I love to make sure we are ticking every box, completing every page, doing every problem. However, it seems that the compromise for that busyness is losing the peaceful, gentle education that I long for my children to have. A couple of months ago we added three extra children to our household for a while. With this addition the mere thought of continuing homeschooling in that busy manner was completely overwhelming me. I knew I had to prioritise what was important for this busy season. Thankfully I was given Stephanie Walmsley's Successful Homeschooling Made Easy Course by Successful Homeschooling Made Easy to review. It was exactly what I needed at that point in time. It gently guided me back on track to the homeschool I want our family to have and is achievable even while juggling those little ones.
The Successful Homeschooling Made Easy Course is an online course for all homeschooling parents. It is written by Stephanie Walmsley who is an experienced homeschooling mother of five grown children. The course is sent directly to your email weekly for 26 weeks. Each week Stephanie sends an email with the download link for the lesson. The lessons are approximately 14 pages long and come in pdf format. Occasionally there are bonuses as well. I have received 9 weeks of lessons & one bonus so far. My review will reflect what I have seen of the course. I will continue to receive the rest of the course weekly ( & let me add that I eagerly anticipate these emails). I personally found it useful to print out each lesson & then place it into a binder. I then chose a quiet time when I could work through the lesson with a pen & highlighter ready!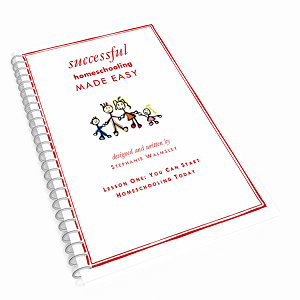 The Successful Homeschooling Made Easy Course is designed to bring you back to the basics of why you homeschool & to get you to assess how you homeschool & how it can be improved. It is especially designed for new homeschooling families, although I found it to be extremely beneficial for our experienced homeschooling family. This course begins gently & invites the homeschooling parent to examine what real education is. They will begin by making a basic schedule & gradually introduce various subjects as the weeks progress. Stephanie includes many practical ideas within the lessons. Each lesson is different & has a specific topic it will focus on. These include basic scheduling, various academic subjects, bringing your children home from school, your goals & dreams for your homeschool, choosing curriculum & even housekeeping while homeschooling. Each lesson is simple to read & easy to follow. Within each lesson are pertinent questions which will make you examine your idea of homeschooling. Stephanie does not promote a particular way of homeschooling, but instead encourages you in this important job. Her aim is to equip you to homeschool your family in the way they need to be homeschooled. At the end of the lesson is a short assignment for the week. These are simple to complete & are useful in implementing what you have learned in that lesson.
Stephanie has obviously done a lot of research before compiling this course. Throughout the lessons are many quotes, studies & examples from people of all walks of life who are experienced homeschoolers or have an interest in the homeschooling lifestyle (yes, my highlighter is well used). I especially found there to be so much wisdom written within the lesson & I only wish I had this course when I first began homeschooling as I have made far too many mistakes over the past six years we have been homeschooling. I found Successful Homeschooling Made Easy useful in gently guiding me to reassess my priorities & look at my long term goals. As I continue to work through this course I am finding it both encouraging & informative. I look forward to the next lesson!
A Preview of the course is available HERE.
Successful Homeschooling Made Easy can be found at:
Website
Facebook
Just to note:
Stephanie has other courses for homeschooling parents which also look very interesting. More information can be found HERE.