I always love the opportunity to include some variety in our school work. My children thrive when it's not all the same old thing over and over again. I often scour the Internet looking for new material to include in our school day. I had previously stumbled across Super Teacher Worksheets on one such search. I happily tried some of their free worksheets, but didn't know if it would be worth the money to get a membership. When I was offered an Individual Membership in exchange for a review through the TOS Review Crew, I jumped at the chance. With over 10000 printable worksheets, activities & games, Super Teacher Worksheets is now used daily in our homeschool & is a valuable educational resource for our family!

Super Teacher Worksheets
is a website that contains the PDF of thousands of educational worksheets for children in the preschool and primary school years (although they are slowly adding resources for grades 7 & 8). They cover a huge variety of subjects including Phonics & Early Literacy, Maths, Reading & Writing, Handwriting, Grammar, Spelling, Science & Social Studies. Each subject area contains numerous worksheets specific to different topics studied. Membership gives you unlimited access to all of these worksheets. Included within these many downloadable pages are subject specific educational games. These make learning fun while solidifying a concept. One of my favourite parts of
Super Teacher Worksheets
is the Work Sheet Generator. This section allows you to customise worksheets specifically for your student.
Another feature of the
Super Teacher Worksheets
site is the filing cabinet. As a member you have your own 'filing cabinet' which allows you to save worksheets for later use. Next to each worksheet's description is the option to save it to your filing cabinet. It is simply done with the click of the button & makes it so easy to retrieve later.
As I mentioned, we now use
Super Teacher Worksheets
daily in our homeschool. The twins are in third grade & so they were able to utilise a large proportion of the sheets on the site. Of course we really have only just brushed the surface with so many available. Every time I look around the website, I find more to use with the boys. I particularly chose to use the reading comprehension sheets for the twins. I feel this is an area that their current English curriculum is lacking. It was also grade levelled which made it easy for me to choose what to use. Each reading comprehension PDF contained a story or a poem for the student to read. These also include a fun illustration to make it more appealing to the children. There was then a variety of activity sheets for them to then complete. These sheets all pertained to the passage studied. Some of these were direct questions from the story testing the student's comprehension. Others were matching word meanings or filling in the blanks to spell words. There was often a section for them to write a paragraph or even a story pertaining to something previously studied. My favourite sheet of all was where the twins had to rewrite the Goldilocks story, but set it in the Arctic. We discussed what the Arctic is like & how living there would be different from living in the woods. After the boys had completed their story, I took them through the whole review & proofreading process. I then asked them to type out their particular story & illustrate it as a picture book. They loved doing that & are very proud of their completed book!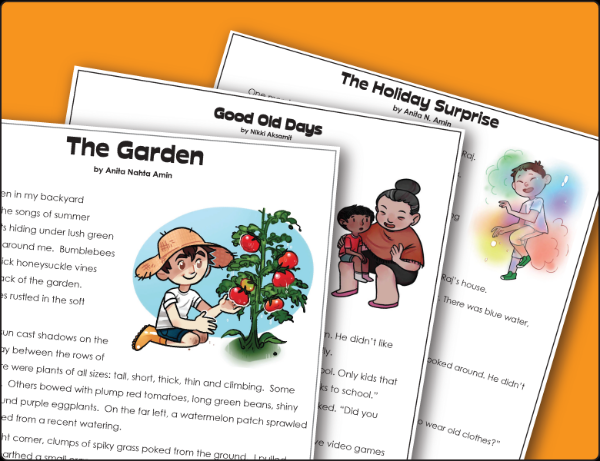 We also used multiplication colour by numbers to practice multiplication. I used this with the three youngest & they all enjoyed it. We used some geography sheets about Australia. This is sorely lacking in our current curriculum, yet it is included in the BOS learning outcomes that we must achieve. Thanks to
Super Teacher Worksheets
, it is now done!
Using the Worksheet generator, I was able to make a worksheet using their spelling words each week. This was a fun way for them to practice their words! I also printed out all the Dolch Sight Words flashcards to practice with one of my kiddo who (I thought) needed a little additional work on his sight words. As he got most of them correct without any prethought, I possibly didn't have to do this. It was a great review activity though, and it helped my peace of mind! As I tend to make Fridays a little lighter on the school work, I was able to utilise some of the worksheets & games on this day. We also used them when we had to travel somewhere. It was so easy to choose a few worksheets, print them & clip them to each child's clipboard. They travelled easily & the children were able to do their work while on the go. It was so much less cumbersome than hauling around text books!
Super Teacher Worksheets has been such an asset to our homeschool and we will continue to use it. At just $19.95 per annum, membership is very affordable and I have found it is well worth it!
Super Teacher Worksheets can be found at:
Facebook
Twitter
Instagram
Pinterest
For more reviews please visit: