Let me invite you into my garden this morning...
Let's enjoy this rain kissed earth.... the scent lingering on....the birds are singing their early song - their morning shower much enjoyed..
Let's look a little closer now there's more to see than first meets the eye...
Geranium leaves hording the moisture a beautiful bowl filled with heaven's delight...
Just the littlest sprinkling seen on my apricot seedlings...
the flowers are dipping their heads under the extra weight of the raindrops...
the grass is glittering as if adorned by a thousand diamonds.....
Everywhere we look we see beauty...
Look closely - isn't there beauty in everything God has made!
God saw all that He had made, and it was very good.
Genesis 1:31a
Joining Jenn for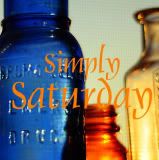 This weekend enjoy God's beautiful creation,
Have a wonderful day