I began a post about tips on growing herbs a while ago, but it got so long that I thought I'd make it into a series of posts. I'm a little nervous about posting this, but it's been sitting ready to go for a while now. Lest you think I'm an amazing gardener ~ I'm not. Everything I've learnt has been by trial & error ~ mainly error ~ loads of them! However I have been growing herbs for most of my adult life and have always enjoyed grabbing a few to add to different meals I make. I want to share with you how easy it is & encourage you to begin your own herbs ~ whether it is a few pots of herbs or an entire garden ( or like me have them scattered throughout the gardens). I intend to share with you the tips & what not to do's that I've learnt along the way (with some types there's a lot)!. It is so satisfying using your own produce & herbs are so very easy to grow & will add flavour & nutrients to the meals you make! I hope you enjoy: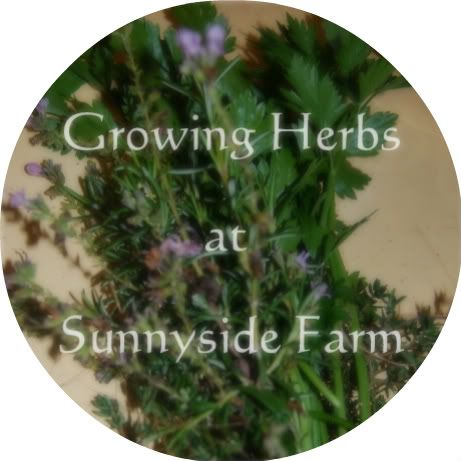 ROSEMARY
If you're just beginning your herb garden or want a pretty addition to your perennial garden, one of the easiest & loveliest herbs to grow is rosemary. It lives well on pure neglect & will thrive with only a little care. My rosemary is the one plant I put in that survived our first year here at Sunnyside ~ before we put in the watering system from one of the dams that actually contained water back then. It managed with the little water I would pour on it now & again ( remember this was a drought year, so we needed most of our water just to live & keep clean) & once we were able to water it regularly, it flourished & the growth rate increased remarkably.
You only need a small plant to begin . What begins as a 10cm plantling quickly turns into a thriving, wild bush ~ it is often used as a beautiful & aromatic hedging. Rosemary is best grown from a cutting rather than seed ~ simply take a small cutting of new growth from an established plant & place one end into some seed raising mixture. Keep moist & soon it will have grown sufficient roots to plant out into your garden.
~Yes, my rosemary is in dire need of pruning ~
As with any plant, rosemary loves good soil, but will grow even in poor soil types. Our house is located on an ironbark ridge & although this enables us fantastic views of the valley below, it does mean that the soil is poor & quite rocky. Most plants I grow are in raised beds, but I have been able to grow my rosemary straight into the ground ~ I love hardy plants like that :)
Rosemary is such a delight to have in the garden ~ who can resist running their hand through it & smelling the delicious aroma that is emitted. It is such a pretty herb that it can be easily added to a flower garden (it makes a fabulous backdrop to other flowers). Rosemary produces flowers in flushes at various times throughout the year ~ it will surprise you when! I have one rosemary bush that produces a pretty, soft pink flower (above), but my absolute favourite is my 'tuscan blue' rosemary ~ the flowers are a startling blue/purple that always bring a smile to my face (at top & bottom of page)!
Rosemary a wonderful addition to a variety of meals. It is very good for you containing up to 20 antioxidants & some say it aids in improving the memory. One of my favourite ways of using rosemary is when I cook a roast lamb or beef ~ just poke a number of sprigs into the roast at varying intervals along with some garlic cloves & then cook. I also add rosemary to my spaghetti bolognaise, chicken stuffing & of course my bouquet garni always contains this herb!
I hope you find delight in growing this beautiful, tasty, aromatic, hardy herb for yourself!
I'd love it if you shared any tips of your own :)
Blessings
Joining up with :
Also At Wildcrafting Wednesday
HERE
Also: