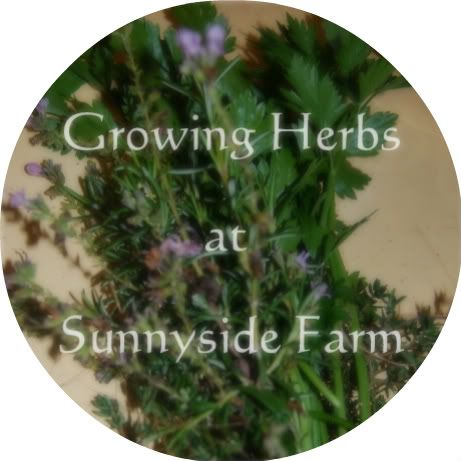 Mint would have to be one of my favourite herbs ever. With it's unique flavours & medicinal qualities it is not only beneficial to your body, but tastes wonderful too! Mint is one of the few herbs that is a must~add to your herb garden...even if it's just a pot on the varanda. It is definitely an integral part of Australian cuisine. Although it is a terribly invasive plant, it makes up for itself with an abundant year~round harvest, lovely striking leaves that look just as pretty in your flower garden as your herb and lends itself to a surprising endearment for even the most inexperienced gardener.
Mint generally is easy to grow if you have good rainfall & fertile soils, yet if you are anything like me and have killed more than your fair share of mint plants you may be wondering how unfair it is when you hear that.
GROWING MINT:
From it's purchase my mint plant had an unlikely chance ~ sure I'd purchased more than my fair share of this lovely plant, but I'd also killed each & every one that I'd touched ( my husband would tease me relentlessly about my black thumb). It seemed that no matter what I did I had the touch of death when it came to this supposedly hardy herb. That is until an experienced gardener told me her secret for keeping her mint alive before it was planted:
Mint loves moisture, mint needs moisture & it flourishes in shady areas ( here in our dry climate areas at least). She directed me to put my mint plant in a bucket of water & keep it there for the remaining months of the summer & once autumn ushered in her cooler weather only then to plant it into my garden giving it a good start through our wet winter seasons.
My chocolate mint plant ~ before the chickens :)
Using this method I was able to plant not just a common mint plant ( which I put into the shade-house as it was so close to death I knew the shade-house was the only place where the ground was constantly moist enough to promote life for it) but also my chocolate mint plant in the garden. Over the winter we enjoyed the chocolate mint as it vigorously came to life. Unfortunately as spring came my chickens found the mulch in that part of the garden too tempting ( the hazards of free ranging chickens). After multiple times of being dug up the plant finally lost it's heart to grow & died a lingering death to the amusement of my husband ( who says it was lucky to last that long). Fortunately for me I could direct him to the shade-house where my other mint plant was doubling & quadrupling in size right before our eyes. Not only has it continued to grow, but it has given us so much delicious mint that this summer has been full of minty~goodness! I've even been able to share it with friends!
To counteract it's invasive nature I grow mine in a raised bed. This means that while it is now taking up half of the bed & I'm sure will take up the whole lot by next year, it will not get into my other garden beds. I've heard of people planting in containers in the ground to prevent the roots from spreading. Also it is ideal for pots as it looks so pretty!
MEDICINAL USES:
Mint has been used for many centuries to treat a variety of conditions including gastro-intestinal issues, heart troubles, cramps, migraines & nervous disorders. Used externally it helps alleviate skin itching when added to bath water, can be used in a vapour treatment to clean out the sinuses and can be applied to toothache & to provide local anesthetic to pains & inflamed joints. (Source:
Natural Remedies Encyclopaedia
)
My wild mint patch in the shade-house!
CULINARY USES:
Mint is also a flavoursome addition to our meals with many uses throughout the kitchen from savoury to sweet dishes, mains to desserts. I find that adding a few leaves of mint to my salad gives a subtle flavour without overpowering the main ingredients. It will dress up your meals delightfully! Who hasn't eaten a lamb roast with mint sauce?? A yoghurt, garlic & mint sauce is always delicious on a greek kebab & mint iced tea is such a tradition in some parts of the southern states of the USA that according to the West Ladies in
The Homestead Blessings Cookbook
( which I highly recommend) it is sometimes referred to as "tea" rather than mint.
I love to add herbs to our recipes, not only adding nutritional value, but also flavour. When I added mint to my egg & bacon pie recipe I was a little unsure how it would be, but was delightfully surprised at the way it's delicate flavour highlighted the other ingredients!
On my mint wishlist ~ veriegated applemint. I'm hoping to get some this coming autumn!
Source
The ability to pluck a leaf of mint straight from your garden & enjoy it's pleasurable taste & heavenly aroma is one of God's gifts to us!
Enjoying God's gifts today!
Linking up to :
(Congratulations to the ladies on their 50th barnhop!)
Also: