I am always amazed by anyone who is remotely artistic. This is because I myself tend to produce artwork that would rival that of a typical preschooler in quality. Consequently I am much more comfortable sitting down teaching a page of long division to my highly distracted daughter than an art lesson. However since my children are not all carbon copies of myself and some are actually artistically inclined & since the government requirements include some art lessons I hold my breath each week, pray that it goes well & embark on our prescribed art lesson. Since receiving
Global Art: Activities, Projects and Inventions From Around the World
by
Gryphon House
the dread of art lessons have disappeared.
Global Art
has revolutionised art here at Sunnyside making them easy to teach, fun to participate in & a much anticipated ending to our week of work that even I enjoy.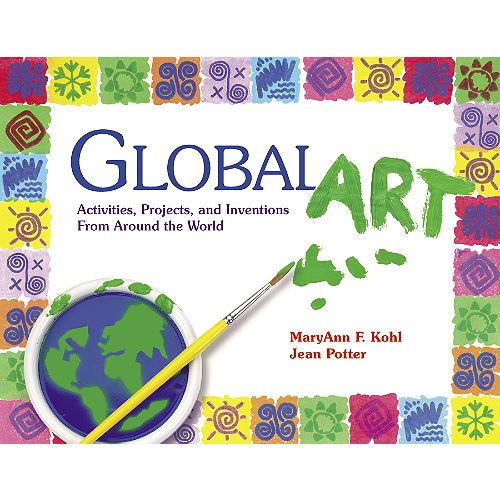 Global Art
by
Gryphon House
is so much more than just an art book.
Global Art
is a 189 page, soft covered publication which compromises of well written, easy to follow instructions to make artworks from countries all over the World. The techniques taught within the pages include painting, sculpting, construction, drawing, collage & printing with an enormous variation of projects to choose from. Upon receiving the book I was pleasantly surprised to find that it includes 138 different art projects from a large range of cultures & countries. If you are like us & complete an art lesson weekly this would mean over 3 years of art! The activities have been arranged within 7 chapters each of which correspond to a specific continent of the world. This makes it simple to choose a particular part of the world to focus on each term.
Our Three King's Cupcakes ~ Unfortunately I couldn't capture the flame as well.
Each lesson within
Global Art
include a small section detailing the area or peoples that the particular artwork is related to. This may also include what the artwork is & how it relates to the history or culture of that particular country. A comprehensive list of materials is then provided. These materials mainly comprise of things that are found around the home with very few specialised art products required. The artworks are categorised with a number that denotes how readily available the materials will be around the home. Even the highest number materials are still easily accessible in an art supply or hardware store. The process needed to make the project is then described in easy to follow, step-by-step detail. This makes it simple for even the most unqualified teacher to give adequate instructions.
Jud showing the 'treasure' in our Three King's Cupcakes.
Each art project within the book is catalogued with an icon to identify it's experience level requirements. This makes it simple if you are choosing projects for younger or inexperienced artists.

When I was first looking around for Art curriculum I had many options. As soon as I saw
Global Art
by
Gryphon House
I was so suitably impressed that I threw the other ideas away. We are so excited to be using
Global Art
as our main art curriculum and will continue to do so. We choose to focus on South & Central America as our continent for this semester. This is because the children's grandparents are visiting there in a few months time.
Paper mache for Fiesta Masks!!!
I have personally found the lessons to be well thought out & well written so that I can easily prepare for & give the required instruction. Art is no longer a stressful time, hoping I have all the supplies & attempting to get the children to produce something adequate. Instead it is now fun & relaxed (& yes, the children feel this too)! We enjoy learning about the country or people the art work originates from & this often extends into a small geography lesson on that area. The lessons are sufficiently involved that all our children could complete them together (Grades 1-5), but neither the older or younger were lost in the details. Each lesson takes approximately an hour to complete depending on the particular project.
Working on her Aztec Circle Calendar
Global Art
by
Gryphon House
is an excellent resource for any young artist or homeschooling family. It makes art easy, fun & enjoyable! It's specified age is PreK to Grade 5, but it caters for a complete range of varying skill levels & there are some artworks that even I can't wait to try myself!!