Dave and I are celebrating our 14th wedding anniversary this year. Over the years we have had some bumps & hurdles & even mountains to traverse in our marriage (both figuratively & literally). We have also been blessed abundantly throughout this time. When the hard times come though, the one thing we can fall back on is that our marriage is built upon a strong friendship. It's this (& our faith in the Lord) that has got us through the more challenging hurdles life has thrown our way. I was intrigued when I was offered the chance to be part of the launch team for the newest book by Hal & Melanie Young:
My Beloved and My Friend ~ How to be married to your best friend without changing spouses
. This book is published by Great Waters Press and is a fantastic resource for any married couple.
Hal & Melanie Young
Hal & Melanie Young are the well known authors of
Raising Real Men
, the 2011 Christian Small Publishers Association Book of the Year! This is a book that grew out of their experience parenting their 6 boys (& 2 girls). When Hal was then diagnosed with cancer, they asked themselves what else would they want their children to know?
My Beloved and My Friend
grew out of their desire to teach their children about having a strong, godly marriage. It is a legacy for their precious family, but they have allowed us the privilege of also sharing it. Melanie & Hal are well qualified to be writing such advice as they have been married for almost 30 years and have had to endure some very difficult times. In this newest book they share wisdom & insight into how to build the best marriage possible. Although they have walked the gauntlet through some really tough times, they have relied on the Lord to get them through & to make their marriage stronger. This is obvious if you have read any of their books or attended their
Bootcamp
(which I am currently attending & gleaning so much from). Hal & Melanie convey through their words & actions that they are indeed best friends. I love that the underlying message of the whole book is to stay strong in the Lord.
* It is not good for the man to be alone
~ Leaving and Cleaving
~How to be married to your best friend
* A Helper Suitable for Him
~ In Sickness and in Health
~On Submission
~Fidelity and Loyalty are Not Mutual Funds
*Fill the Earth and Subdue it
~They Physical Aspect
~Children and All that
* Have Dominion
~Money - Yours, Mine and Ours?
~ The division of labour
* In the Image of God He Created Them
~The Spiritual Aspect
~Being of One Mind
~ How to fight so you both win
I received a pre-released pdf copy of
My Beloved and My Friend
for review purposes. It was fun being part of this launch team as Melanie freely interacted with the members. Each word of this book is well written, easily read and understood. It is written to be a quick, yet thoughtful read, allowing the reader room to hold their own views, yet always pointing them towards Scripture & godly ways of improving their marriage. The book's purpose is to make you aware of areas that can cause complications within marriages & it gives you some wise ways of coping or bypassing these issues. It is specifically written for Christian marriages, although all marriages would benefit learning from these experienced people. Hal and Melanie are not shy about standing up against cultural pressures & sharing the real truth about marriage.
I really appreciated the Scripture that is woven throughout the pages. As Christians we need to be acutely aware of how the Lord would want us to act within our marriages. Even though I can confidently say I am indeed married to my best friend, I found this book full of wonderful advice. There are so many things I will remember for the next time the turbulent storms attempt to sway this God-ordained relationship and there are some ideas to put into place now to prevent future heart ache.
My Beloved and My Friend
deals openly & honestly with issues that are often not spoken about in Christian circles, yet ones we all have to deal with at some point. Hal & Melanie welcome you into their lives as they share stories from within their family & marriage. I was particularly touched by the account of Melanie's Maternal Grandparents who showed true faithfulness to each other to the end even though their marriage was riddled with difficulties. This is an sensible, yet emotional book that will touch the heart of all readers & make them assess their marriage & what they can do to improve it.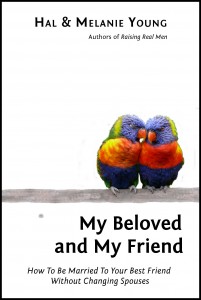 My Beloved and My Friend
is one book I am so thankful to have read because even though Dave is my best friend, our marriage is not perfect & there are issues we have had to work through & will continue to deal with. All married couples no matter how long or short, strong or weak their marriages, would benefit from the wise advice throughout it's pages.
For Further reviews please Visit Bow of Bronze
HERE