Education is one of those touchy subjects where someone always gets upset. It seems that there are no right answers and even within the Christian church there are many disagreements upon the best way to educate your children. What people can't argue with, though, are the facts. The majority of Christian children who are educated in the public schooling system will leave the church and their Christian faith as adults. With
alarming statistics, Scottish Filmmaker Colin Gunn decides to investigate what is really happening behind the walls of the American Public Schooling system. Why is this educational system having such a negative impact within the church? He presents his findings in a compelling and informative documentary from
Great Commission Films: IndoctriNation: Public Schools and the Decline of Christianity in America.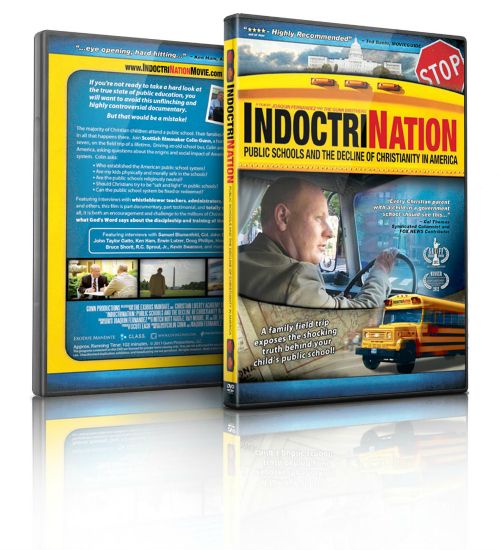 IndoctriNation
is a DVD that records the story of a journey. Filmmaker Colin Gunn packs up his family and takes them on a field trip across vast distances in the USA to interview teachers, historical experts, political experts, principals, students as well as parents regarding the US public school system. He presents his findings in a chronological order from the inception of public schooling, progressing through the history of public schooling until the present age. Colin aims to provide viewers with the truth of what is really going on behind the walls of public schools all over America. He investigates the agenda being taught to the children and consequently the social impact of the removal of anything Biblical or Christian. As he journeys, he interviews relevant experts who give their personal opinions which are often backed up by years of experience or study.
IndoctriNation
is a well presented film. It is interesting to watch and while there is plenty of dialogue throughout, it never slows down or gets boring. The facts presented are well investigated and the viewer is quickly drawn into this informative documentary. It is important to note that IndoctriNation is from a Christian view point and holds strong views on Biblical supremacy. It also contains sensitive material and topics. While it does show where the public school system is failing, it does not mention the Christian schooling systems or recommend a particular type of schooling.
I wanted my husband to watch this with me as I felt that it was important to get both our opinions before writing any kind of a review. We are very different personalities and tend to think from completely opposite angles. We are, however, both deep thinkers. As Australians, we were also wondering how relevant it would be for us. After all the DVD is subtitled: Public schools and the Decline of Christianity in America. It certainly isn't a DVD we would generally pick up to watch as we seem removed from it's intended viewers.
We were consequently very surprised at how interesting and challenging we personally found this film. While it was investigating the public school system in the USA, we were quickly able to draw parallels with the Australian public schooling system. There are certainly remnants of Christianity within our system that are completely missing in the US, and thanks to some Godly leaders of our country, religious education is still generally taught once a week. However, the content of the generalised curriculum holds many personal biases, agendas and unsubstantiated theories which are opposed to the beliefs of the Christian faith. The Australian public schooling system may not be where the Americans are, but it certainly is going down the same road. We found those parallels all too obvious and quite scary.
After watching
IndoctriNation,
Dave felt that as a father he was challenged to lead his family in the truth. One of the most important choices you can make for your child is where to educate them. While your choices may not look the same as ours, it is important to make sure you yourself are educated in what is being taught to your precious children. I personally found
IndoctriNation
encouraging, as it certainly supported some of the reasons we chose to remove our children from the public schooling system 6 years ago.
IndoctriNation
is an interesting film for any parent to watch. It provides a thorough look at one system that is obviously failing, yet it also challenges you to make sure your children are not being subtly indoctrinated in other areas of their life. It encourages parents to truly think about the important, irreversible choices they are making for their families