You may remember a while ago
when I posted
about the book I'd read "
One thousand gifts
" by Ann Voskamp. What a beautiful book & one I look forward to rereading in the near future. It will always have a place on my bookshelf & I hope over the years the pages will get tattered as it is thumbed through again & again for that flicker of encouragement, that quote, that example....
When I read the book I determined to begin my own list of one thousand gifts & beyond. You may remember that I shared with you the beginning of my list. Well my list has continued here & there & even though I did buy a exercise book to keep it in, somehow it never got filled out regularly as I had hoped. Then Ann began a
monthly printable
on
her blog
to list a gift daily. Not only were these printables pretty, but I found it much easier to fill out one thing I am thankful for before I began schooling the children each morning.
To add to my list of thanksgiving....
Today's gifts from His heart....
1st- A wonderful family to enjoy quiet holidays with
2nd- The taste of a simple, healthy, filling lunch
3rd- A printer that continues going -through years, jams & pages & pages of work
4th- Snuggly bugglys next to me
5th- Warm beds on cold nights
6th- Bright flowers to greet me each morn...
7th- Carefree laughter of children
8th- Happy Birds chirping loudly
9th- Audio CD's for long drives
10th- The joy of the Lord through grumpy mornings
11th- Growing boys- their voices intermingling with exciting plans
12th The steady hum of the computer
13th- The crisp crunch underfoot of a first frost
14th- Beautiful mothers day lilies opening wide in honor of their Creator
15th- Sweet daughter reading more & more
16th- The scratching of a lead pencil writing desperately an exposition (NAPLAN )
17th- Mouse traps & the satisfying snap they make as they rid our home of unwanted guests
18th- Garlic shoots growing tall
19th- A wonderful husband who loves our family as much as I do
20th- Little boys who yearn to be "just like Daddy"
21st- A son with a heart for a friends salvation
22nd- A capable husband
23rd- Fresh country air
24th- Autumn leaves - such beautiful colours
25th- The promise of warm, snug winters nights
26th- Children who complete their schoolwork
27th- Patient children who play happily for hours as our church family meets
28th- A paddock with fences repaired that now holds our renegade jersey cow
29th- Fresh farm eggs - even into the end of autumn
30th- Patience - today I need a lot
31st- Our new pastor - we are just praising the Lord!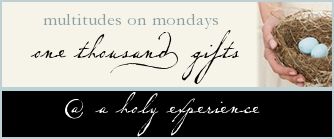 Each day is filled with blessings, some we notice, most we expect. Let me encourage you that looking at both the large, but mainly the small gifts the Lord has blessed you with will enrich your life...
With Joy