Many of you know that I've been recording one thing I am thankful for each day for a few months now ~ such a highlight & I thoroughly recommend it !!!
Here is my list for September:
1. The gentle swelling of a close friend's abdomen ~ reminding us of the new life being formed.
2. A sweet daughter who even while sick tries to keep a happy smile.
3. Dirty floors ~ because if they were always clean it would mean no one was here to make them sticky!
4. New friends ~ the promise of all it may hold
5. Preschoolers ~ their excitement at something as simple as playdough
6. Ticks on my list ~ the work is being completed!
7. The anticipation of a month of visitors !!!
8. Health
9. Caring friends
10. The chance to get away with a group of sweet friends & listen to good teaching for women.
11. Safety
12. Parents / Grandparents
13. Homeschooling & children who work hard.
14. The first blossoms of jasmine ~ welcoming spring with their delightful scent.
15. A wise father.
16. Fun trips with visitors to quaint little towns.
17. Sweet youngest sister ~ who loves us so much
18. A wonderful, fun sunday school class ~ who are eager to learn & discuss ( don't you love 8 to 12 year olds??)
19. Delicious meals cooked by Mum ~ the fun of having a live-in cook even if it's just for a little while!
20. A son who works hard to complete his term's work.
21. All school work completed for term three ~ YAY!!!!!
22. Heart to heart talks with sisters
23. Beautiful flowers, old books & a new visitor!
24. A beautiful ballerina dancing at the local show!
25. Lovely rich,fertile soil delivered especially for my gardens
26. Phone calls with a sweet SIL
27. Shopping with my lovely sister!
28. Birthday fun over ~ but not forgotten
29. Sadness of goodbyes, but happiness of a week full of memories
30. A comfortable car, a long drive & precious hugs from in-laws!
Joining in with: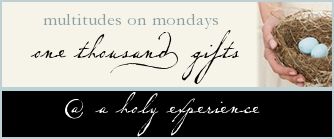 Are you counting your blessings today?
What are you thankful for?
Have a beautiful day friends!
Blessings