Mathematics is such a fun subject, but to fully master it repeated practice of the basic Maths facts is required. This practice can cause even the most enthusiastic student to sigh when it comes to their Maths lessons. One Dad was concerned about his children's Maths results & came up with a solution to help them learn the basic Maths operations. He has created a fun & engaging computer game that gives the child their needed practice while allowing them to enjoy every second of it! We are so excited to be able to review
Math Rider!!

Math Rider
is a bright, entertaining & fun game that build's a student's addition, subtraction, multiplication & division ability. The program has four levels and the student progresses through the levels as their ability improves. Level Easy tests maths facts between 0-5. Medium tests 0-10 and Advanced covers 0-12. After they have progressed through these levels & gained 100% mastery of the operation they are able to progress to Master level!
Math Rider
is an intelligent program which adjusts to the individual child's needs. The horse senses the student's ability & slows or speeds accordingly. This allows the student to feel a sense of achievement right from the start. The program also recognises facts that the student needs more practice in and repeats these regularly.
Math Rider
contains both written & spoken narration so even an early reader can participate. The student is given quests through the fictitious Mathlands. To complete these quests they must ride their horse through different sections of the land and answer their Maths fact questions. Each section of questions allows them to move further along the path. As they complete the quest they arrive at the castle and are given different reward and a little more of the princess' story. Different quests require completion of a varied numbers of questions.
Student results and improvements are available for the student or parent to access and monitor on the statistics screen. A bright, colour coded graph makes it easy to see what questions the student has mastered and where more practice is required. There is also a practice section built into the program where students can become more proficient in their particular areas of difficulty.
Our use:
When I asked my four children what they thought of
Math Rider
they all yelled "FUN"!
We used
Math Rider
as a supplement to our Maths curriculum. I used it to build & practice the children's basic Maths facts. Although the twins are only in stage one (grade 1), they were able to go on the addition quests. Zai (grade 5) & Ellie (grade 4) were required to try all operations. Each child began on the easy level quests & they were able to progress at their own rate as skills developed. Approximately 20 minutes per day was allowed for the child to complete a small section of the program, but generally they would ask for more time! It is such a fun game that my children would ask to use it even on weekends. All four children enjoyed
Math Rider
and it's narration enabled independent use for even the twins.
My children haven't been the most enthusiastic Maths facts learners although they all love Maths! I was so happy to have them being able to practising these important skills within the façade of a fun & captivating game. I found it very useful being able to monitor their progress & observing areas that required additional practice. We all appreciated seeing how the child's Maths fact mastery had improved since using
Math Rider
.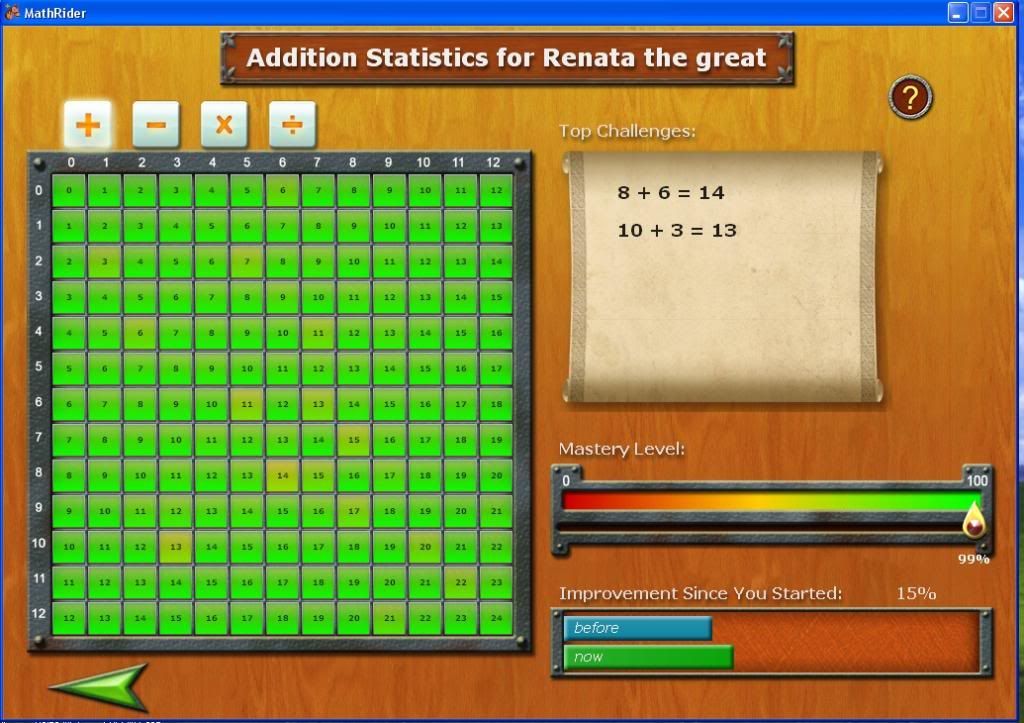 Math Rider
is definitely a family favourite program (even I had a go)! I have found it a much better alternative to flashcards or drill pages within our Maths lessons. As a parent I appreciate that someone has taken the time & care to create a unique program that makes some of the more mundane parts of Maths enjoyable to learn for even those students less Mathematically gifted.
I do need to mention that there is a small magic/ fantasy component to the game. This includes fictitious creatures such as wizards, elves and dragons.
I also found that the twins were slightly frustrated as they were slowed by their lack of keyboard skills. With continued practice this no longer became a problem.
Australian Students:
Personally, I think this program would benefit all Australian students whether in school or at home!
Math Rider
can be used as a supplement to any curriculum choice as it's goal is to assist in laying those foundational skills to be built on later.
Math Rider
was created for primary school students (particularly grade 2 to 6), but any student, no matter what stage or age, who is struggling with their basic maths facts would benefit from it's use.
Math Rider
is directed at students aged 6-12 who have a basic understanding of the maths operations and their use. It is available as an instant download for $47. This will allow 8 riders to be created. A FREE 7 day trial is also available. It also comes with a
30 day risk-free guarantee
.
Maths Rider
would be beneficial in any schooling situation to assist in the development of good foundational Maths facts!