I have found that being organised in our homeschool is integral to ensuring that we achieve our prescribed learning requirements. I used to use a paper planner & would very carefully record what I was hoping to achieve for each day & then what we actually did achieve. While this was a good solution, my children were always asking for a list for themselves of what I had planned for them ( they take after their mother). I would then have to type out their lists in addition to the planning I was doing. 12 months ago I stumbled across an online planner specifically for homeschooling families. I tried the free 30 days trial of Homeschool Planet by Homeschool Buyers Co-op and was quickly converted. Not only could I easily plan our homeschool & record what was achieved, but it took no extra effort to print out assignment lists for the children, to change my plans & even to record my shopping list.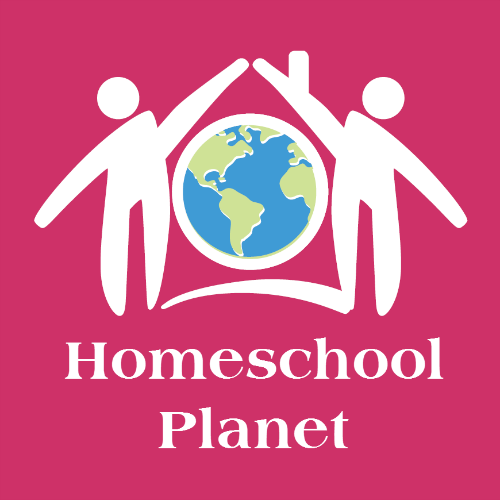 Homeschool Planet is a complete online planner designed for busy homeschooling families. It includes so much more than a just a simple homeschooling planner though. The planner can be utilised not just for homeschooling subjects, but for life as well. Chores, Appointments, & work projects can be added into your planner. You may chose to allocate a specific time to what you plan or you can chose to just list them under a certain day depending if you are a scheduling or a routine family. Any homeschooling lifestyle can be incorporated in the planner no matter how unique it is. Homeschool Planet allows you to plan & record seven days a week. Any homeschooling style can also utilise Homeschool Planet with it having the ability to record what was completed on a given day. You may also wish to simply write notes about what you achieved. When properly completed, the Homeschool Planet online planner can be a full record of what your student has achieved throughout their school year.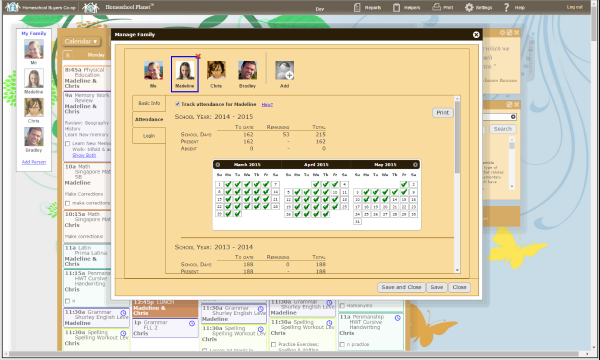 Homeschool Planet
is completely online which allows you to access it wherever you can be online. When you initially login into
Homeschool Planet
you may choose between calendar or planner view. The calendar shows what is planned for the day & also allows you to mark when you have completed an assignment. It gives a more basic overview of what you are planning to achieve.
The planner view is where you are able to add, delete & edit assignments, chores, appointments, holidays, birthdays etc. You also have the ability to mark off when these are completed here as well. I choose to primarily use the planner view as I am often adding & editing assignments.
Homeschool Planet
has made it very simple to add assignments into your planner. There is no laborious task, but rather a few simple clicks & you can type in what you wish your student to achieve. Assignments can include websites links, resources, any specific notes for the student & as much information as you would like to include. It also allows you to track the hours spent on the assignment & even grade it.
If you require your student to complete the same assignment daily (eg. I require our younger children to do a column of their Maths Mentals book each day), then you can simply choose to add that assignment to be repeated for each day during a period of time that you allocate.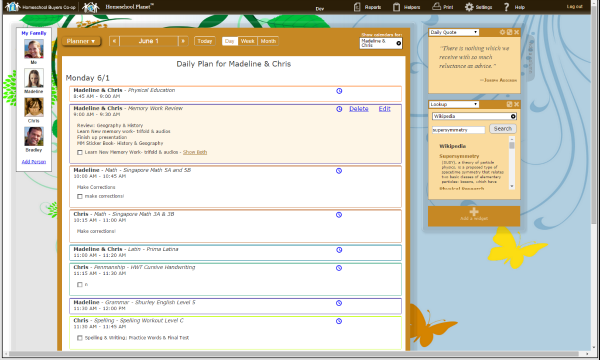 Homeschool Planet allows you to record a complete resource list. This may include website links, books & articles that you intend to use within your homeschooling year or that you have in your homeschooling library. This is very helpful when you need to find if you have something in a hurry. These resources can be included in the planned assignments. Including these allows the student the ability to independently complete their work using the specific resource you have chosen.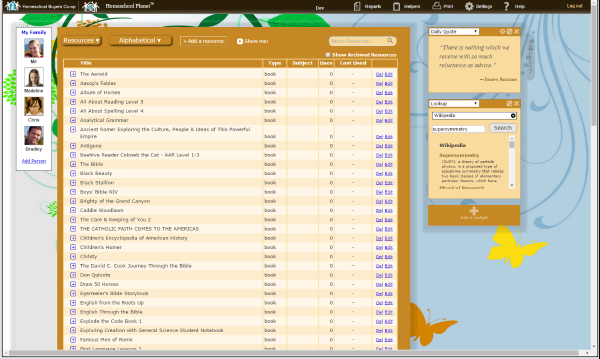 One of my favourite aspects of Homeschool Planet is the rescheduling helper. There is rarely a homeschooling day that goes completely to schedule. The helper allows you to quickly reschedule what hasn't been achieved. It also allows you to ignore it if you would rather. There is also the ability to easily reschedule a whole day's worth of assignments should your day have diverted completely off your plan.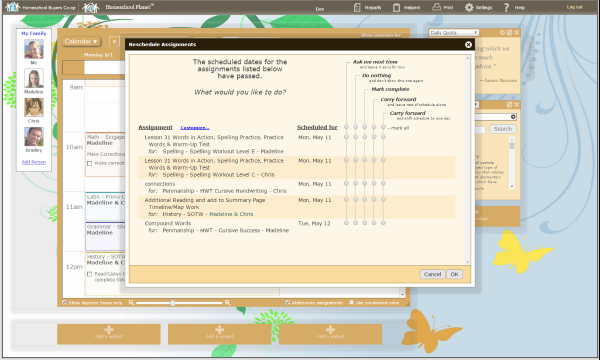 My original reason for purchasing
Homeschool Planet
was because I could easily print lists for my children from my own plan. Every week I spend a couple of hours planning out our next week's work (including additional appointments that we may have) & then printing out assignment lists for my children. The lists are very editable & you may choose to include as much or as little as you want on the lists. Printing is simple & the lists have a check box for the children to tick when they have completed their assignment. You are also able to print out Class Notes, Grade Reports, Class Hours & Transcripts for your student. Alternatively students may be given a login of their own to access their list.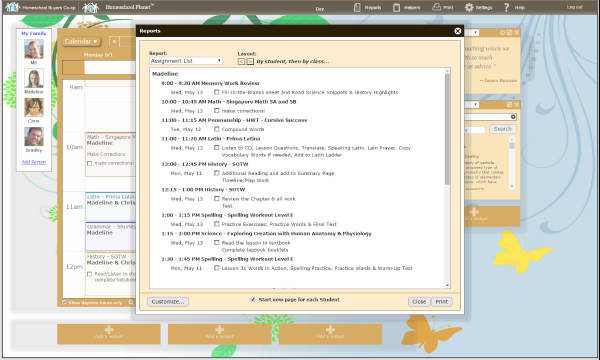 You are able to personalise your sidebar on Homeschool Planet. There are various widgits to choose from. These include Daily Bible Verse, Daily Quote, To Do List, Messages, Lookup, Weather (which unfortunately didn't work for me) & my favourite, Shopping Lists. I loved the flexibility the shopping list widget allowed with the ability to create different lists. I chose to create them for the different places I shop at. There is also the ability to either print or email these lists. Should you live in the US, you may also get them texted to your mobile phone. Sadly this doesn't work here in Australia.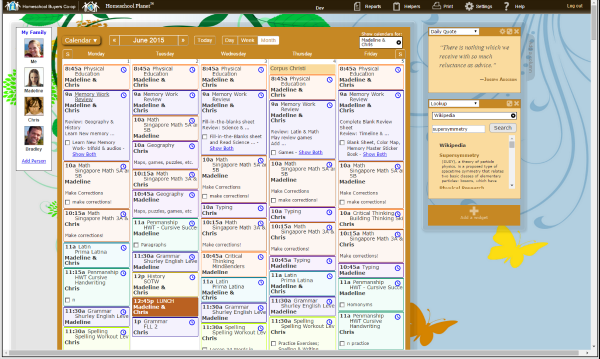 There is so much more to Homeschool Planet than I have tried, even in my year of using it. After my initial 30 day trial I happily paid for a 12 months subscription and have found it to be invaluable in our homeschool. I had every intention of repurchasing it when my subscription ran out, but was delighted when I was offered another 12 months for review purposes.
Homeschool Planet is very straightforward to use. It is designed for any homeschooling family to easily utilise. It makes planning your life & recording your homeschooling achievements simple, allowing you more time to spend with your precious family. Homeschool Buyers Co-op offer a 30 day free trial to Homeschool Planet giving everyone the ability to try it out for themselves.
Homeschool Buyers Co-op can also be found:
Website
Facebook
Twitter
Google+